Woodcarving

Rural handicraft with tradition
Wood carving in South Tyrol
Rustic crafts steeped in tradition
Rustic crafts have always been very important and steeped in tradition at the Thalerhof, even with our ancestors. Spinning wheels, wooden baskets, rakes for haymaking and other tools are made in the small workshop. Vinzenz Kerschbaumer has devoted his time to carving figurines since the 1970s. His works are always well received, but it has not always been easy for him to finish the orders on time in addition to working on the farm. At 15 years old, his son Herbert started receiving training from his father in wood carving, and he also attended a vocational school in Val Gardena. Since completing his apprenticeship in wood carving, Herbert has designed and created many wood carvings. He now runs the wood carving workshop in South Tyrol with his father Vinzenz.

Herbert has been a member of the rural crafts division of the South Tyrolean Farmer Federation since 2013. Only pieces that use solely materials grown on a South Tyrolean farm, are made entirely by local farmers by hand and are one-of-a-kind pieces receive the coveted "Red Rooster" trademark, which focuses on high quality standards.

We welcome visits to the workshop, please call ahead to book.
A special experience:

Hands-on & immerse yourself in traditional, rural handicrafts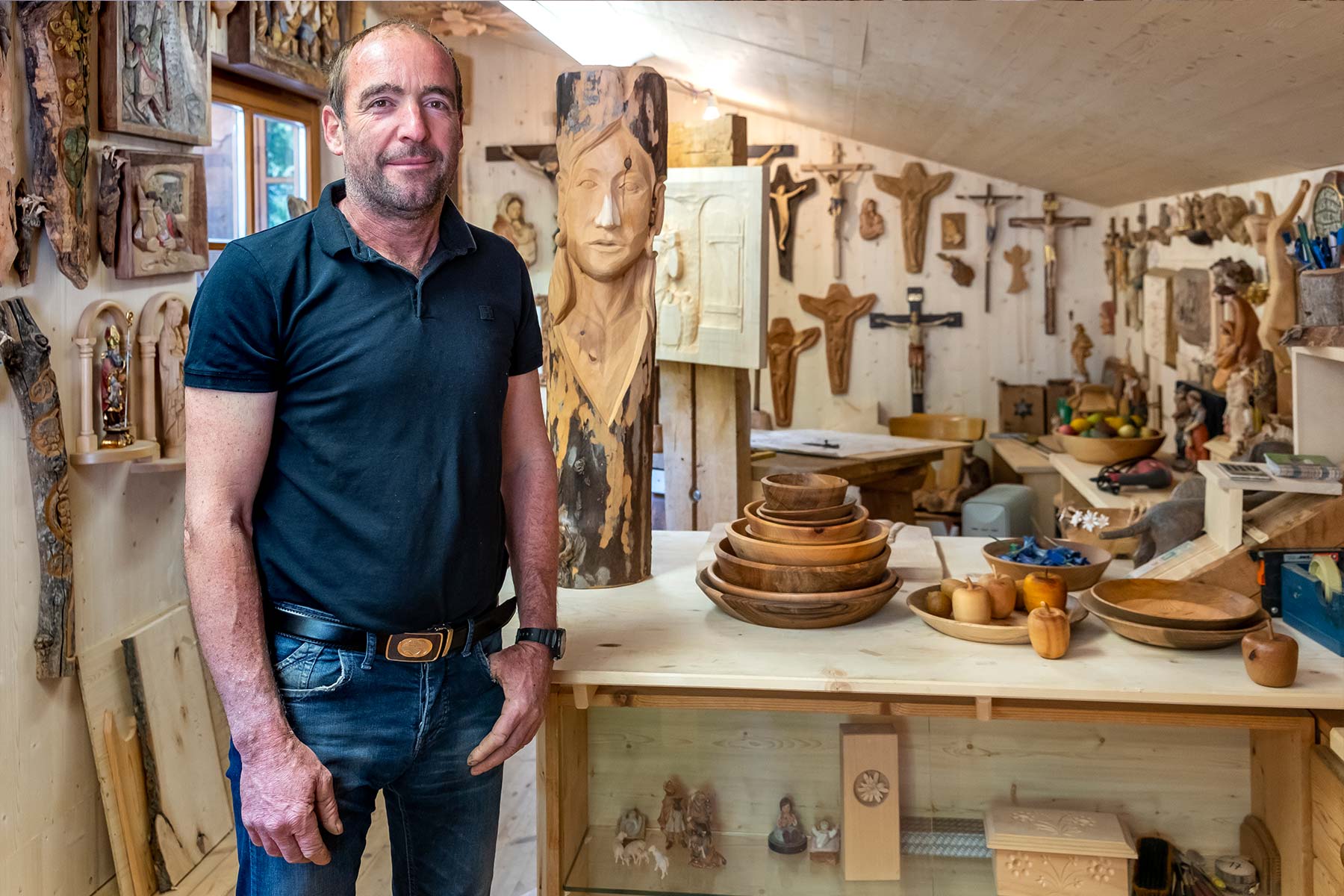 Schnitzwerkstatt und Hofladen
Farmer Herbert loves milling about in the spacious wood-carving workshop, which is also a farm shop. Artistic sculptures adorn the entrance and the building's walls. A number of wood-carving knives in all shapes and sizes lie in the drawers just waiting to be used.
The extensive repertoire of sculptures ranges from a Late Romantic Christ figurine made of Swiss pine to reliefs depicting people right through to modern sculptures of women, not to mention crucifixes, statues of the Virgin Mary and one-off bespoke pieces.

The material used for Herbert's works comes from the 11 ha forest where primarily spruces, but also larch, pine and Swiss pine trees, grow. Trees are felled and sawn in the sawmill every year in late autumn. So there is always plenty of dry wood available for wood carvings and furniture production.